Pardot Vs Marketing Cloud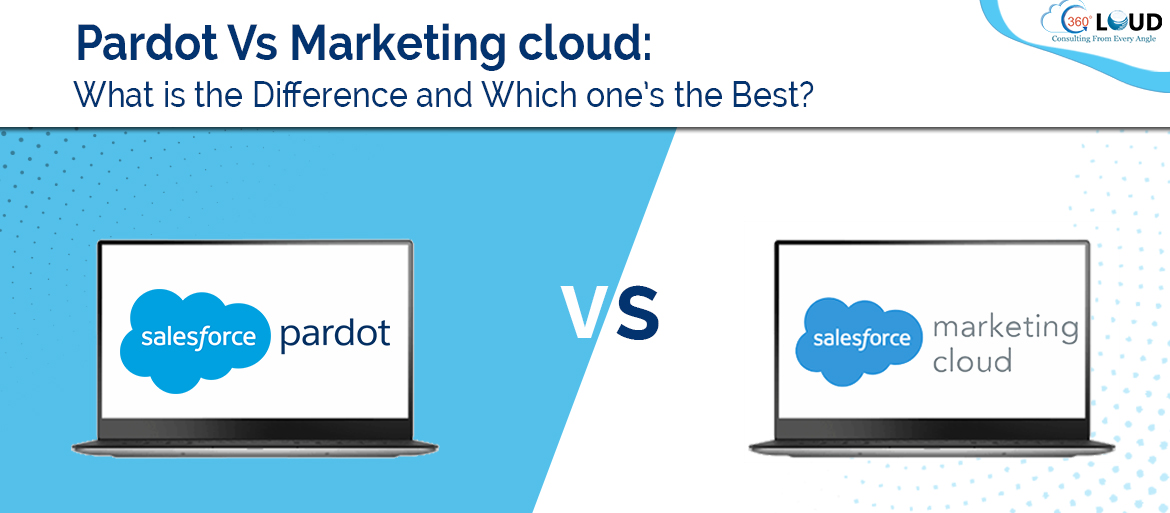 Pardot is a marketing automation tool aimed at cutting down the Marketing and Sales team attempts to comprehend the most lucrative leads, seal-the-deal, and maximize ROI paving the way for seamless connectivity with clients through Social Media & Paid Marketing.
It's close cousin, Salesforce Marketing Cloud is a unified platform for orchestrated customer relationships that opens up management of relationships and campaigns across the customers. Besides, it gets your business insights into various stages of a customer's journey and their experiences too.
Difference between Pardot and Marketing Cloud
Broadly Pardot and Marketing Cloud have a lot in common they're both automation and digital analytics platforms aimed at email automation, lead nurture journey mapping, social media marketing, and CRM integration.
Pardot is mostly a B2B platform while the Salesforce Marketing Cloud is more B2C focused. The former primarily an email marketing platform while the latter brings together several dedicated marketing offerings that Salesforce packages as 'studios' or workspaces.
Pardot enables better alignment and orientation of effort through funnels and scoring for B2B teams which lead into reports that measure marketing performance rubrics. It also triggers actions based on the completion status of activities. On the other hand, the Salesforce Marketing Cloud is suited for one-on-one customer journeys. The two don't directly compete in terms of their intended audience, and one isn't necessarily better than the other.
Pardot is a marketing platform intended to address the needs of business-to-business (B2B) clients, whereas the Marketing Cloud is a broad platform that caters to the business-to-customer (B2C) operations. The main aspects which differentiate Pardot and Marketing cloud are listed below:
1. Channels
As an effective means of connectivity and engagement, the channels used in Pardot are Emails and Social media whereas the marketing cloud involves Social, SMS, Display advertising as a medium to accumulate data and engage with audience segments
Pardot capacity has multi-channel support, whereas the capabilities of the marketing cloud include cross-channel support for social media, websites, emails, and much more.
2. Popularity
Pardot is industry-agnostic and quite popular with a professional stream of sales teams. On the contrary, marketing-cloud deals with a wide spectrum of realms including FMCGs and retail.
3. Use-cases
Capabilities typical of Pardot care lead generation, lead scoring, lead assignment, email campaigns, content marketing, webinar marketing.
On the other hand, the best keywords exhibiting the Marketing cloud efficacies are Messaging in real-time, marketing in Cross-Channel, Mobile, Social Media, Display Marketing, E-Commerce.
4. Capabilities
Marketing Cloud's comprehensiveness as a one-stop-platform comes from a long list of dedicated, special-purpose studios for MarketingOps like Advertising Studio, Social Studio, and many more.
The Marketing Cloud is apt for capturing customer journey interactions, whereas Pardot has mature capabilities for concern lead management.
Is Pardot a part of Salesforce Marketing Cloud
Pardot works enticingly when integrated with Sales Cloud. It has nothing to do with Marketing Cloud once the Pardot is amalgamated with it.
Do you need Salesforce to use Pardot?
While the Marketing cloud works independently without being connected to any other portal, in the case of Pardot, a valid Salesforce Platform license is a prerequisite to enable Pardot.
However, Platform Integrations Supported by Pardot do Include
Salesforce.com
Netsuite
Microsoft Dynamics CRM
Google Adwords
Eventbrite
PowerMTA
Services on offer by Marketing Cloud:
The Marketing Cloud's ability to perform comes up in quite diversified form comprising several modules and each module works independently taking into account the service provided in digital marketing. MC services like Email Sudio, Mobile Studio, Web Studio, Content Builder, analytics builder have eased the working process by fostering hassle-free collaboration and efficient customer management. Further, they've cut down excessive navigation and complicated toolchains associated with creating and managing the SMS campaigns
Key Features of the Marketing Cloud:
Messaging for every step of their journey
Improved sales by Assisting the customer at every step of their journey.

Customized email based on customers' interests.
Based on interest, relevant, products, demographics, and other segmentation criteria.


Real-time tracking and analytics
for clicks, views , and impressions on targeted collateral


Creating Customized or personalized content
Based on key services and search intent.


Supported integrations
For Salesforce Sales Cloud, Shopify, Workbook, Facebook, Twitter, Linkedin
Services by Pardot:
As a constructive tool, Pardot helps you exclusively with the processes, involving effective nurturing of leads. It facilitates the cleaning of your sales pipeline to steer clear of the unresponsive leads and sets up another pipeline for the hot leads.
Despite similar email services provided by Marketing Cloud, Pardot focuses on a more extensive email marketing approach creating special drip campaigns. These drip campaigns help you in the services offered to the customers and easy tracking of relevant data gathered through website interactions. In addition, it helps in scoring and qualifying the lead on a priority basis and updates with the customers regularly.
Key Features of Pardot:

1. Lead management.
Generation of new clients through different Marketing Campaigns.
2. Lead generation.
Initiation of consumer interest towards products or services of businesses.
3. Email marketing.
Sending messages to customers based on their interests and choices through Email.
4. Automated engagements.
It is a method of engagement offering services or products to customers throughout a purchasing & usage lifecycle.
5. Personalized messaging.
Depending on the customer's interest and choice sending them the messages related to products like discounts, sales, and more. These are send based on customers Age, Gender and Geographic location also.
6. Optimized sending.
Sending Emails or Messages at an optimum time. Optimum time is when the customer will view the message or open their mail to check.
7. Sales alignment.
In this marketers generate leads for sales to create opportunities and turn sales into revenues.
Common elements offered by both Pardot and marketing cloud:
Email campaigns
Marketing automation.
Campaign automation.
Segmentation.
Dynamic lists.
Content personalization.
Inference:
It's quite evident that the marketing cloud is the best bet for the business ventures to easily engage with the customers, across different channels and aid in their customer journey. On the other hand, Pardot is the weapon of choice to efficiently manage and nurture leads by narrowing down the gaps between sales and marketing employees/teams. Products striving for high value and long term nurturing can be easily dealt with through Pardot.